Do you support SSL encrypted connections when transmitting the data?
Yes, we support SSL encrypted connections as well as connections without SSL.
Make sure that your mail client is configured properly; check the box "This server requires an encrypted connection (SSL)".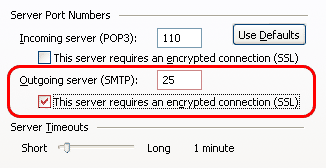 Once SSL is enabled all communication between the server and client will be encrypted and the data being sent is secured through SSL encryption.
If you required a secure end-to-end solution then digital signatures and full encryption of your emails is recommended.
See Also
Will my email be protected from an unauthorized access ?
What is a Personal Email Certificate?