My email client cannot connect to the Secure SMTP server and returns an error "Unable to connect to SMTP Server". What should I do?
Check the opened port number.
You can connect to the SMTP server and request the available port number using the TELNET protocol.
Click Start button
Select 'Run...'
Then type 'cmd' (no quotation marks) into the box and click 'OK'
You should see an MS-DOS Prompt window appear. Type in the following command:



telnet smtp-server.com 25


(25 - is a port number, any port number is available from the range 25, 2525, 80, 8080, 574, 4000, 5000, 5001)

Click OK to connect to the SMTP server

If the connection is successful, a response from the mail server will appear in the TELNET window: ESMTP READY! WELCOME TO smtp-server.com!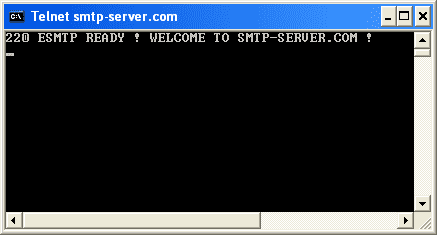 Note: If you are unable to request the opened port number, use port 80 which is an alternate one.